The World Famous WHITEROCKBOXING Gym
To Download

Brochure-1

Brochure-2

The mission of White Rock Boxing shall be to enable South Carolina's athletics and coaches to achieve sustained competitive excellence, develop character, support the sport of boxing and grow Olympic style boxing in our state.
*What we do?

We foster, develop, promote and coordinate recreational and competitive amateur boxing opportunities for all USA boxing member athletes and supportive participants.

*What Makes us World Famous?

World famous athletes have supported our program from the beginning. We have hosted such greats as two-time World Champion Travis Simms, World Champion Paul Williams, World Champion Luis Collazo and a ton of other professional and amateur standout boxers.
*Professional Trainers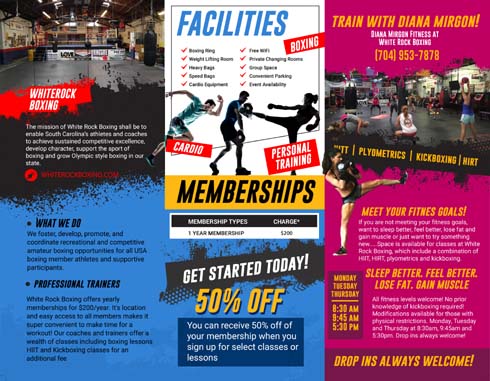 White Rock Boxing offers yearly memberships....Our coaches and trainers offer a wealth of classes including boxing lessons, kickboxing, and more....To get full details of membership fees, club hours, download the brochures.

Brochure-1

Brochure-2